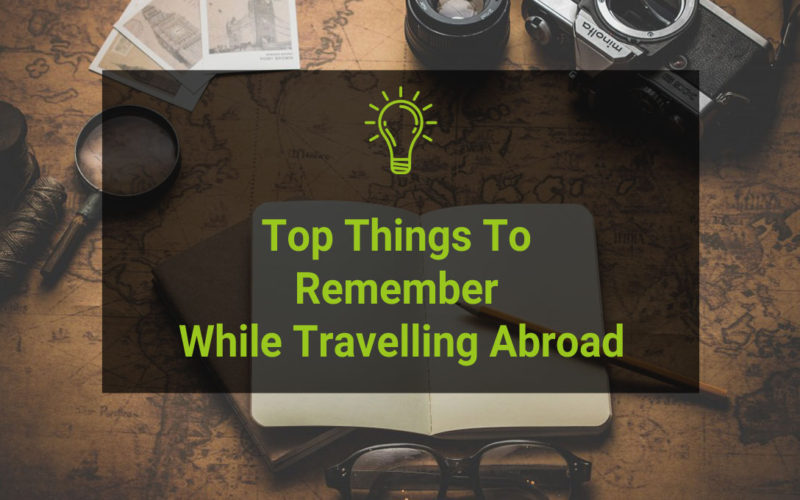 Top Things To Remember While Travelling Abroad
Mr. Kapoor was planning a family trip to abroad. The family was full excited about the trip. All the formalities were done but they did not check the passports as it was assumed that the passports will be ok. But at the last moment he realized that his passport was about to expire. Because of which they had to cancel the trip which was definitely so sad. Thus, if you are planning for a trip abroad these are certain things which you must always keep in mind to avoid any last minute problems. Kenznow mentioned top things remember traveling abroad.
Planning a International Trip ?
Following things  needs to remember
1) Check the passport and Visa: Before anything else you must be sure that your passport is up to date. Most of the countries require that the passport must be valid for atleast 6 months so if your passport is expiring within a month or so you will have an option to renew your passport and plan the trip accordingly. Similarly, for Visa check all the required documents ready so that you will not face any visa issues before the trip as sometimes after whole trip is planned visa can create some problems so you need to be prepared well in advance. Know more about the brief profile of the top countries that Indians travel on Kenznow Travel Abroad.
2) Carry limited things: Not being stereotyped, but girls have this problem of over carrying of luggage. By the way, I also fall in this category. This can be a problem too as the weight of luggage is pre fixed so it is advisable to always carry the important things only else be ready to pay bulky amount at the airport. A reduced amount of luggage is also useful because if you are traveling abroad you will definitely shop which will ultimately increase the luggage.
3) Carry Doctor Prescription and medical aids: Purchasing medicines in an alien land is quite difficult. Different countries has different rules and regulation and buying medicines in other country is also a tedious task unlike India chemists in other countries do not give medicines without prescription which can be a problem so take care about your medicines before your travel. At some ports of arrival, you may be required to declare the medicines, do keep a note of it.
4) Take Travel Insurance: This is a must no matter, even if you are going abroad to the same place umpteenth time. Future is uncertain and god forbid in the unknown place you need medical attention it can be very costly and it is rightly said that precaution is always better than cure so by taking travel insurance you will be able to take medical aid easily.
5) Get updated about the place you are travelling: It is very important to get updated about where you are travelling and pack accordingly. It is important to know the weather and time of your travel and take the clothes accordingly. No point in landing in a sunny place with warmers on.
Also one must consider the culture of the place and dress accordingly. There are some places where even sleeveless top and shorts are not allowed be it men or women. So it is always advisable to stay updated. Check out the brief profile of the top countries that Indians travel on Kenznow Travel Abroad
Exchange your money before hand: don't wait for the last minute time. Forex is very fluctuating and it is advisable to always buy the forex at least 3-4 weeks before travel when the rate is favorable to you. Also invest on travel cards rather than carrying cash for a more safe and secure trip. Read more about Kenznow Travel Currency Card.
Travelling is always fun but if you are not careful about your travel you can cause loss to yourself and thus one must always keep these things in mind to have a fun filled travel experience.