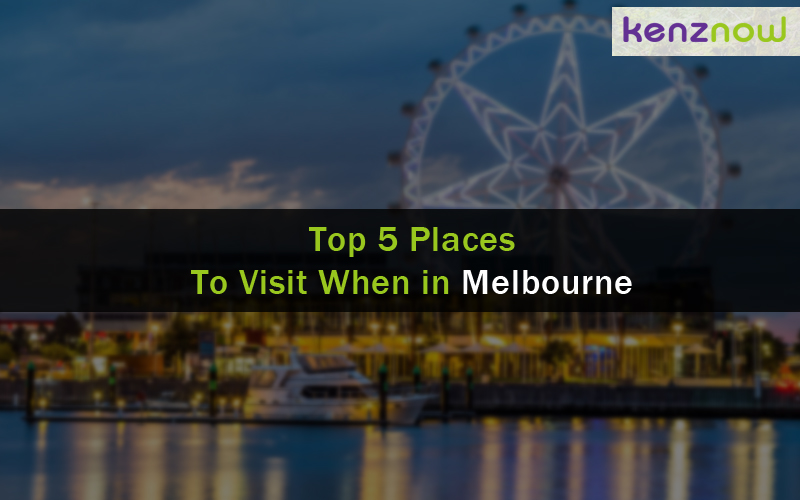 Top 5 Places To Visit When In Melbourne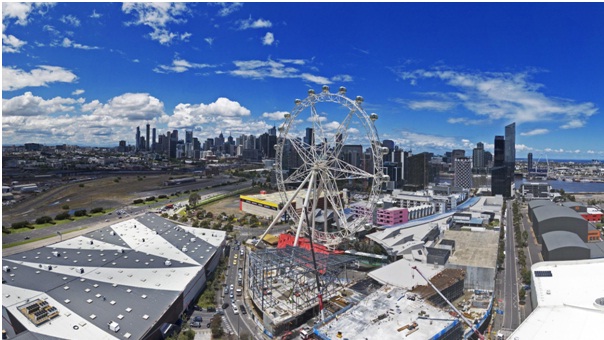 When you talk about being elegant, hip, vibrant, and being the most liveable place in Australia, the pointer drops directly on Melbourne. This multi-coloured, dynamic city is known as the second largest liveable metropolis in the world. Being one of the most happening places in the world, Melbourne is as amazing as it is filled with places to explore. Foodies will have a delight here as you will get to experience a variety of cuisines like Italian, Greek, Asian cuisines which makes you feel like you are in Italy, Greek or Asia having the food there. Be ready to have a caffeine rush because some of the world's best coffee can be found here. Coffee person or not, you are going to try each one of them.
What exactly are the places and what you experience in those places are:
World class events, the best of arts, food, drinks at the Federation Square.
Feel the history of cricket in Australia in the Melbourne Cricket Ground and the National Sports Museum.
Cruise it up in the Yarra River and relax at the Yarra valley with plenty of activities.
Keep finding then losing yourself and exploring places around the laneways and arcade of Melbourne.
Meet the famous snowy region animals pals, the penguins at the Phillip Island.
FEDERATION SQUARE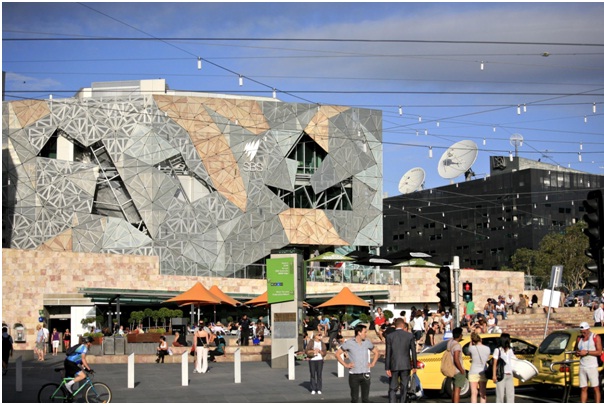 images taken from urban.com.au
Being a culmination of a lot of things at once, it would be best if you started your day here. If you are an avid contemporary art admirer, this place is filled with structures that you either love it or hate it. Since beauty is in the eye of the beholder, this place could be candy to your eyes or hot sauce, depending on how your taste in art is. Except for that, plenty of museums can be found. Not often do you find museums that exhibit games as an aspect of museums. Attend exhibitions and screening of a variety of contemporary art, experimental films in one of the several screening rooms. Gamers are in for a treat as there is a separate exhibit dedicated to video games. Apart from that this place is great for dining, or grabbing a bite to eat as this place is filled with plenty of eateries, pubs and cafes. Grab a warm cup of the best coffees you can ever have in the world. Coffee shops all around Melbourne have the best coffees exported from exotic places rich in coffee beans. As a matter of fact, Coffee shop tours are also available if you are the kind of person who cannot live without coffee.
MELBOURNE CRICKET GROUND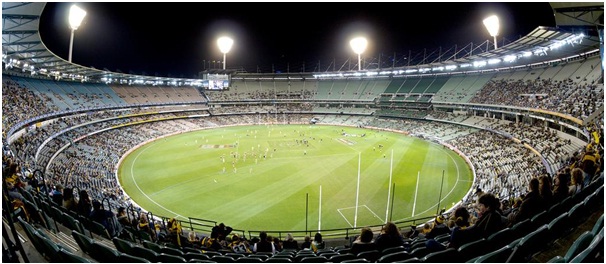 images taken from sbs.com.au
Melbourne Cricket Stadium (MCG), widely known as 'The G' is the world's largest cricket stadium and ranks in the top 10 largest stadium in the world. If you find yourself in this stadium during the summer, you are in a treat as the test cricket matches are held here during the summer. There are also events for people travelling there during winter. The Aussie runs takes place during the winter. So irrespective of whether it is summer or winter you can make sure that you get to catch in one of the games that take place in these grand fields. You can always have guided tour of the whole stadium and also don't forget to visit the National Sports Museum of MCG. Catch the highlight of the history of Australian cricket history and of MCG with thousands of artefacts all about cricket and stories of the legends Australian cricket. This definitely is a pilgrimage for cricket lovers.
YARRA VALLEY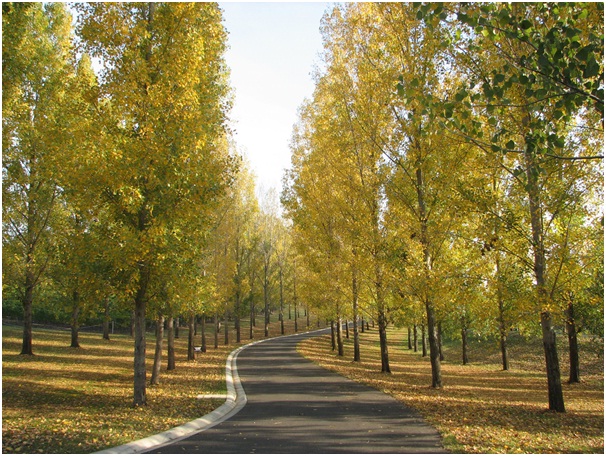 images taken from en.wikipedia.org
Wine yards, vineyards, wine yards! The main objective of coming to Yarra Valley is none other than experiencing and tasting one of the best wines ever made in Yarra Valley. Ale, Cider and vintage wines can all be found here. If you are the kind of person who enjoys a good art museums with even better wine, this place has got both of them and an additional, beautiful places to dine. There is no way to gain a sense of Yarra valley's beauty except for flying above it. Hot Air Balloon rides are available so that you could admire the beauty of it all while being above it all with the backdrop of Dandenong Ranges which made this place famous. Enjoy scoring fore with your nine iron on Eastern Golf club when you feel like you need to enjoy the view as well as shoot some balls. If you're planning on staying here, you would be stuck in an admiration dilemma between the architecture of the houses, the food and the wine. It is a tough struggle but the houses are amazing with jam dropping scenery around. Healesville Sanctuary if you decide to admire the different species of birds in the sanctuary and finish the tour with a good glass of Peach Melba; a dessert created by one of the top chefs of Yarra Valley which brings out every flavour you had in your taste buds.
ARCADES AND LANEWAYS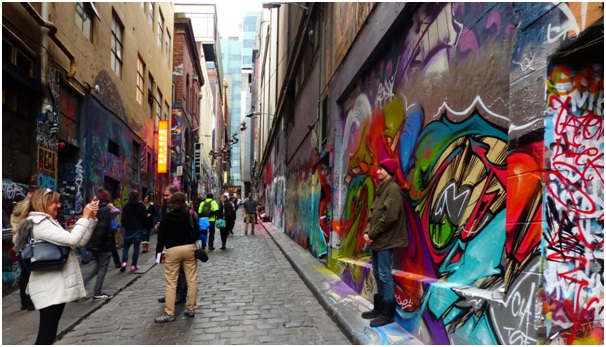 images taken from theculturetrip.com
Open up your Instagram because this place is an abundance of creative, quirky places, shops and eateries. Make sure you fill yourself before you fill up the memory on your phone. Find a little piece of France in the Scott Alley. Heavy French accents and sweetest of delicacies all around. The Royal Arcade feels exactly like you've come to a place that looks like a Harry Potter movie. Hand-crafted designer toys, wooden dolls, and children's décor fills up this place. So many arcade which consist of various cuisines from around the world, antique shops, Melbourne made clothing, jewellery shops, secret lanes that lead to restaurants. For people who have a sweet tooth, sweets, lollies, candies and cakes are going make your mouth water and you will feel like a 5 year old at a candy shop at the Block Arcade. Take a tour of the alleyways and laneways of the place because the tour runs for almost 3 hours. These alleys and lanes run throughout the city filled with street art which are going to fill out your memory; your memory and as well as your device's memory. Mesmerizing street art and only makes you feel like exploring more.
PHILLIP ISLAND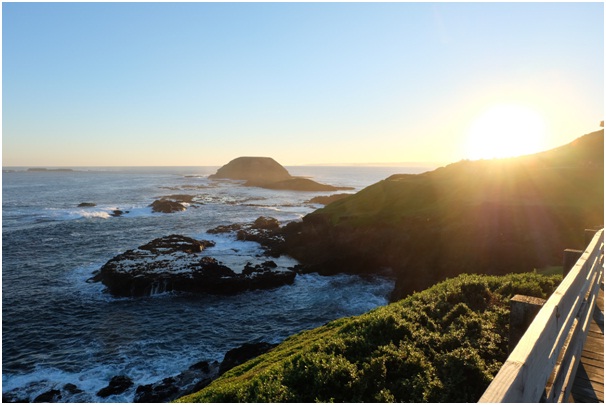 images taken from viator.com
Few miles south-east to Melbourne this exotic island is the place which consists of endless coastline walks, abundant wildlife and seaside villages where you wake up to sound of the waves hitting up the shores. This holiday haven fills in with international motor boating, pristine family vacation time and a multitude of attractions that will tire your eyes in a good way. Splash out with your family in the ocean waters or surf high breaking the ocean waves, it is an amusement for every age. After a good long tiring day, chill out and dine out by the water and call it a day. Wake up and get your adrenaline rushing as you smell the burning rubber as there are motorcycle and car racing championships held at this island. Experience the night parade of the little penguins and seal the deal with the colony of fur seals. Enjoy the company of the furry and lazy Koalas as they lay lazy around and as you click pictures of these moments that are worth capturing and saving. You can also catch a glimpse of the migrating birds that fly miles to hang around the island for their chill-time.
Find out more about such beautiful places, compare sites and places online at Kenznow Travel Abroad. Find the best way to send money abroad and compare the foreign exchange rates provided by various service providers at Kenznow – India's first ever marketplace for needs abroad.
Interested in traveling to Australia, do drop in a mail to [email protected] and get the best offers and deals from Kenznow Partners.
#Kenznow #BestPlacestovisitAustralia #TravelMelbourne #TravelAustralia