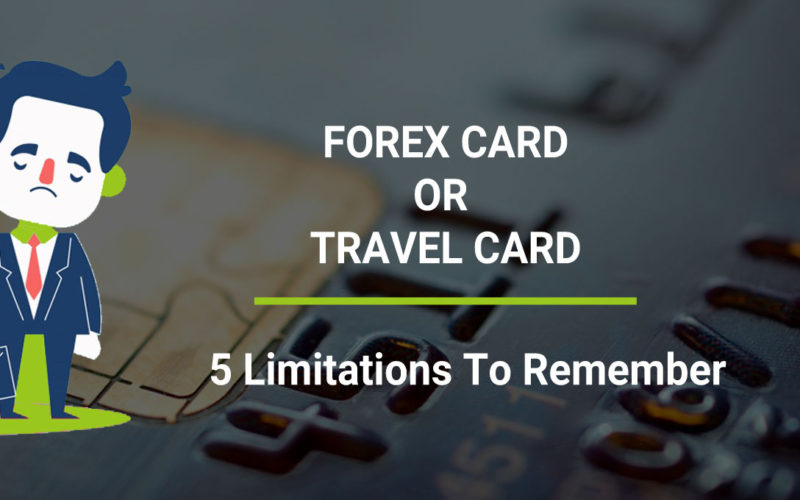 Travel Card Or Forex Card – 5 Limitations To Remember
Miss Oberoi was planning for a trip abroad with her friends. She decided to purchase travel card as she heard a lot about it. Everything as planned was done and she reached her destination. On reaching they spent days of sight-seeing and visiting different cities in Spain. Towards the end of the trip, she could not resist the temptation, to go shopping on the streets of Madrid. Everything was good till the time she realized that the travel cards were not accepted on the street market. And this was the last day with her to do some shopping. She searched for some ATM as they didn't had enough cash but unfortunately there were none. She was disheartened as they had to leave without any purchase.
Thus it is rightly said that with benefits there are always some limitations too so is the case with travel card, here I am listing me of the limitations of travel Card which one should always keep in mind before planning the trip and while purchasing travel card. Recommend to read the benefits of the cards as well before devolving on their limitations Kenznow Forex card.
Limitation of Forex card
1) Fee: There is always a big catch with travel card and that is fee if you are not careful before purchasing the card the authorities may levy fee while setting, loading, purchase made or any other transaction done with these travel cards  Kenznow Forex card Comparisons.
2) Non-working of Card: Sometimes the vendors do not accept these cards and thus to avoid those tough times one need to carry some cash with them in every travel. In case, the card stops working one needs to order a replacement, which takes time to get fulfilled.
3) Delay in cash reloading: There may be some delay in reloading the cash. At times it may also take 2-3 days in reloading the money back in card which can create a havoc and lot of trouble.
4) Fee for Inactive Card: If the card is inactive for 12 months or more then fee with be charged on the remaining balance in your card. Not every issuer of card charges the fee for inactivity but it to get a fair idea, Kenznow Forex card Comparisons.
5) Claim your Money: Inactivity is always harmful and so is the case with travel card. One needs to sure to claim the money out of the card, if it is going to be a long period of inactivity.
So planning a trip abroad do keep these things in mind and plan accordingly. Travel cards are best way to carry cash but they as all good things there are few riders attached to it.