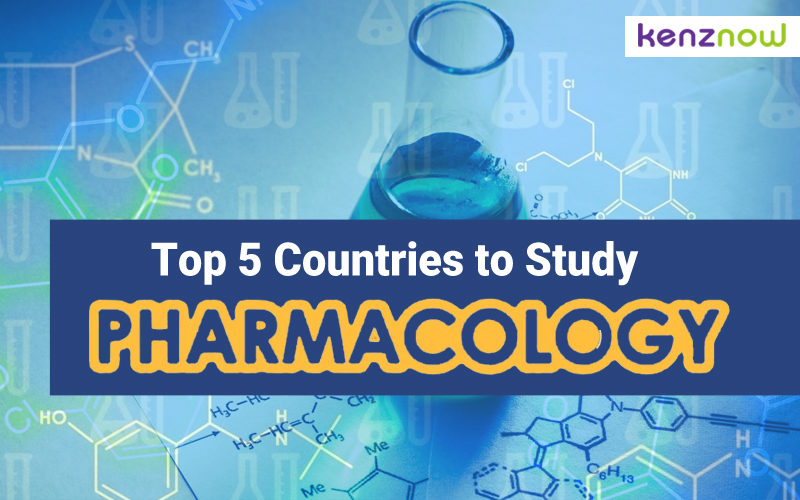 Top 5 Countries to Study Pharmacology Abroad
Pharmacology is the branch of science which studies drugs and their effect on living systems. You can find pharmacology present everywhere. In medicine cabinets, when you visit the dentists and when you take any type of medication. Pharmacology is also responsible for painkillers, caffeine drinks and antibiotics. It is the science which understands the effects of engineered drugs on human bodies.
Pharmacology is mainly used for discovering new medicines to help fight diseases, to improve the effectiveness of medicines and to help in reducing unwanted side effects of medicines.
Nowadays there a boom in health awareness and the emerging trend of medical science development leads pharmacy research more and more. Result of that many scholars and students study abroad for Pharmacy. Here, we enlist a few best destinations for your overseas study in Pharmacy.
To help you take a more informed choice, Kenznow has formulated the ranking for the top 5 country to study pharmacology. This is based on the QS 2019 rankings.
United Kingdom (U.K)
This country sets education benchmark for the world, its legacy in the education sector advocates the reputation for their world class education system on the globe.
Thus there are world-class institutions which cater to a wide variety of pharmacy courses for foreign students.
United States of America (U.S.A)
Like the United Kingdom, the U.S is regarded as the top country for innovation and research-based study. That's why many post-graduation aspirants make this country as their choice. Here, World-class education and research centers enable state of the art methodology for study.
If you are looking to prepare for the GRE, which is a must to get into any of these universities, do check out the best online GRE test preparation courses by Magoosh and more, on offer with Kenznow
Australia
Australia shares an equal attraction for overseas studies for pharmacy. It features almost similar foreign education policies and infrastructure setup to its western counterparts.
Getting decent scores for the TOEFL test is a must to secure admission is a good university. Do check out the best online TOEFL test preparation courses by Magoosh and more, on offer with Kenznow.
Canada
When you are in search of the best pharmacy college abroad this country is home to a number of top-ranked world-class institutions. Canada is recognized as a pioneer when it comes to energy and research based learning so, one should take a look here before finalizing their choice to study abroad.
China – Mainland
In the last one decade, china brought a boost to its policies for education to attract many abroad students to study there. Many high ranked top universities are providing the best graduation and post-graduation course for pharmacology in mainland China
Pharmacy is highly demanding & numerous opportunities are available in this course. Here we try to give you the best options before you conclude your decision for Pharmacy study abroad. Our unbiased and dedicated approach helps many students across the world.
Explore your study abroad career options by logging on to Kenznow Bridge and get access to unbiased study abroad advisory.
Feel free to compare the ranking of various universities at Kenznow University Ranking. You may share your queries with Kenznow or email us at [email protected]