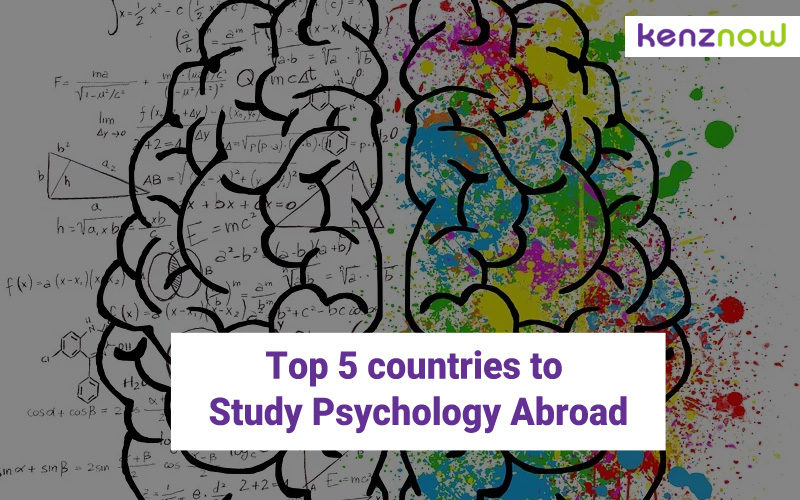 Top 5 countries to Study Psychology Abroad
Kenznow Research brings together the best countries to study Psychology Abroad. This is abroad based research to identify the best of the Universities Abroad providing courses in Psychology.
Psychology is basically the study of the human mind with the help of science and to understand the behaviour that governs us in society. Psychology studies the human brain and behaviours and the complex nature behind them. Because of its complex study object, in order to be a decent psychologist, you need an excellent education. That's why Kenznow has compiled the top 5 countries to study Psychology Abroad.
The subject of phycology as gained traction over the past few years. Psychology as a subject has long been studied and appreciated by the universities abroad; more and more students are now eyeing universities abroad for a degree in psychology that would help them get the edge.
Know more and explore your study abroad career options by logging on to Kenznow Bridge and get access to unbiased study abroad advisory. Typically a degree in phycology would be B.A or B.Sc. degree that is for 3-4 years, So here's a quick look at the best universities to study psychology abroad.
United States of America
There are lots of advantages of studying psychology in the U.S from learning to application. They also provide good career prospects in U.S after completing your course, whereas Bachelors and Masters in the U.S cover all known specializations related to the field.
If you are looking to prepare for the GRE, which is a must to get into any of these universities, do check out Kenznow website for the best online GRE test preparation courses by Magoosh and more, on offer with Kenznow.
United Kingdom
In addition to offering a world-class education in the field of psychology, there are a number of psychology courses to choose among in the U.K. Below are top universities whose Psychology courses are known to be the best psychology programs in UK.
Feel free to compare the ranking of various universities at Kenznow University Ranking.
Australia
Australian and New Zealand universities offer an excellent range of flexible ways in which to study Psychology at undergraduate and postgraduate level. They are one of the top countries to study Psychology Abroad.
Netherlands
With having one of the highest standards of living in the world, Netherland is home to some of the best education systems in Europe, thereby contributing to its rich economy.
One needs to prepare for IELTS to get into any of the colleges abroad. Do check out Kenznow website for the best online IELTS test preparation courses by Magoosh and more.
Canada
Canada offers state of the art facilities and quality of education that matches the U.S at an affordable price. Following are the top university which is globally recognized.
If you wish to know more top 5 best countries to study the course of your choice, feel free to check out our Kenznow Articles. You may share your queries with Kenznow or email us at [email protected]