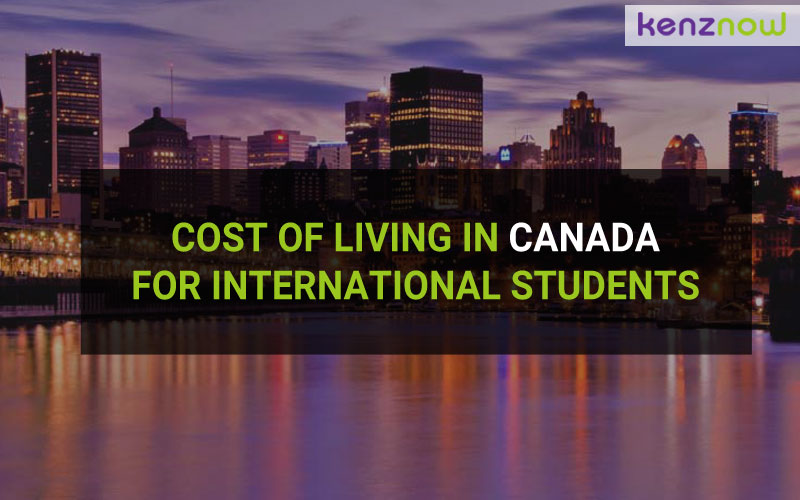 Cost Of Living In Canada For International Students
Canada is one of the most prominent overseas destinations for students. It has Universities which are recognized worldwide. For the year ending 2015, India itself sent over 48,600 students to Canada. Here kenznow mentioned details for cost of living in canada for international students.
One of the biggest draw for international student opting for Canada is that students get 3 years' time after completion of study to decide whether they want to continue living in Canada or go back to their native. This period, however, is subject to revision by the government from time to time. In any case, studying and staying in Canada requires financial planning as the cost of living is relatively not low in Canada.
Getting admission in a Canadian University is just a beginning for the students. For detail of colleges and Universities in Canada visit. The VISA proceeding itself requires some solid proofs and also check that you have sufficient funds.
Some of the factors which affect the cost of living in Canada are as follows:
1) Where to stay?: Big City or Suburban City: wherever you go the cost of living in big cities are higher than that of small cities, and Canada is no different.
Some of the institution offer on campus residences and to avail this you are required to apply separately for on campus residences and the fee of that vary from college to college. Especially cities like Toronto and Vancouver have a shortage of affordable city dwellings and the price of living in these cities tend to be high.
Here is a rough estimate of living in apartment in different cities in Canada:
Vancouver- CAD$ 2200
Toronto- CAD $ 2100
Calgary- CAD $ 1700
Edmonton- $ 1600
Ottawa- CAD $ 1400
Montreal- CAD $ 1200
In Canada, the students also have the option of homestays which is quite common where you stay with some other family and pay them monthly rent which is approx. in between CAD $ 400- $ 800 which includes meal and a room. This is a good option as you can learn about the culture staying with the family.
2) Tuition Fee: As apparent, size of city affects the cost of living similarly which university one is applying, also affects the cost of living. Every college provides estimates of tuition fee and cost of living to its students separately. In case, the students have got scholarship then he will get some relaxation in the tuition fee but other expenses remain constant.
3) Travel: Travelling is another aspect which every student must keep in mind. Staying near a college is always the best thing but if you are staying away from the college then you can opt for bus service, subway etc. The monthly pass may vary from $80 to $110 so you must be aware of this extra cost and choose your residence accordingly.
The above costs and estimates and representative. You are required to plan the expenses in advance to to avoid any issues in future. Many students opt to work part time with studies to bear the miscellaneous expenses if any. If Canada is on your list to study abroad hope this article helps you clear some doubts. In the meantime check out, University of Toronto, the best university in Canada as rated by most of the rating agencies.