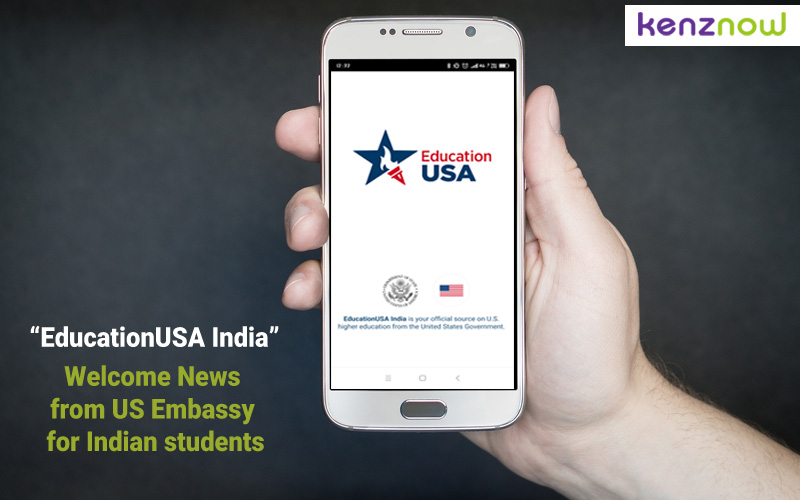 Welcome News from US Embassy for Indian students
A good news announced by US Embassy for Indian students, American Embassy added a valuable feature by launching a Mobile Application called as "EducationUSA India" for Indian students aspiring to study in USA. This is one place to find authentic information about important aspects of studying in USA.
"EducationUSA India" mobile application
This mobile app shall be the first point of contact for students, parents and counselors, to avail information on study in US. The application has a five-step checklist to guide one through various aspects of shortlisting and applying to US universities. A unique feature added is an Answerbot, which will help answer questions about studying in the US. One may download the application here.
Contribution of Indian students to the US' economy
As per the estimates, Indian students represent 17 percent  of the total international student population in US. The Indian students have contributed $7.5 billion to US economy. Majority of these students are from the cities where the "EducationUSA" has presence viz, Delhi , Mumbai, Kolkata, Chennai, Hyderabad, Bangalore and Ahmadabad.
Huge increase of Indian students in the US
In the last decade, the number of Indian students has doubled in the US. In 2017,  1,82,000  Indian students enrolled in US while  in 2018, 1,96,000 students. The students Visa approval is as high as 90 percent. With this new technology and implementation of mobile app. from the embassy of USA shall make it easier for Indian students to fulfill their dream of study abroad in USA.
Explore your study abroad career options by logging on to Kenznow Bridge and get access to unbiased study abroad advisory. Feel free to compare ranking of various universities at Kenznow University Ranking. You may share your queries with Kenznow or email us at [email protected]