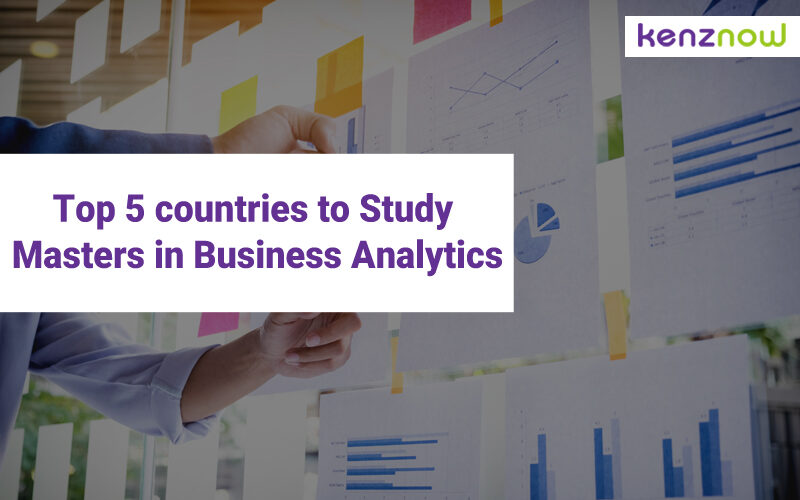 Top 5 countries to study Masters in Business Analytics
Kenznow Research observed the growing trend and demand for Business Analytics as a field of study. The era of the 21st century is dominated by information which is stored virtually and has become easily ubiquitous thanks to the advent of the internet as well as a push towards globalization that aims to connect everyone across the globe, which incidentally birthed the age of Data.

Thanks to social media apps and various other apps and website that require you to input your information in this virtual realm of data, this has thus made it easier for Businesses with such vast information to understand market trends, analyze behavioral patterns, increase or forecast business revenue. In modern terms Data has become a far more prominent asset not just for the people but also for large organizations and governments as well, because of having access to such large pools of data, Corporates can now accelerate towards their objectives and strategies much more efficiently and effectively compared to conventional means of research and analysis.
This need for qualitative data which is more than just merely presenting numbers and figures to businesses but that which requires a much more in-depth approach towards recording, analyzing dissecting data and presenting that information in a format which can be easily processed, as given rise towards the role of data or business analytics, whose primary functions are to
Predict customer trends and behaviors.
Analyze, interpret and deliver data in meaningful ways.
Increase business productivity.
Drive effective decision-making. And many more.
As the demand for data analysis is skyrocketing, there are various universities and institutes that are offering various courses on business analytics, we at kenznow have carefully researched and picked up the top 5 countries for Masters in business analytics.
You can now opt for short term courses on Business analytics and receive a certificate from well-established universities abroad. This is completely Online, Get your course on Kenznow Institute.
United States of America
USA has some of the best universities that offer masters in business analytics programs. The country offers the highest salaries to data scientists in the world, the basic salary for this profession averages at $1,20,721. There is big opportunity for students seeking to pursue business analytics in the U.S. Popular universities in USA offering masters in Business Analytics are.
Australia
Australia offers the second highest salary for data scientists followed by the U, S. The demand for data scientists is booming in the country as of in 2018 there was a 58% increase in job postings and there are no signs of a slowdown since then. Top universities include
United Kingdom
In the continent of Europe, the U.K is said to host some of the top-ranking universities on the globe that offer the best courses for Masters in Business Analytics and related programs. The U.K is among the top paying countries for business analysts. Top universities include
FRANCE
After U.K France is home to some of the top-ranking schools for business analytics programs in the world. The country particularly Paris with a low cost of living and high per capita rate for data analytics jobs is a top pick for professionals in this field. Popular institutes for business analytics programs include.
SPAIN
Compared to its other two European counterparts' salaries for business analysts in Spain are not quite high but the job opportunities are quite good and is also rated among the most popular countries in Europe for Data science jobs according to a report published by Big Cloud. You can expect median salary in the range of 30,000-60,000 EURO annually, the following universities are.
Explore your study abroad career options by logging on to Kenznow Bridge and get access to unbiased study abroad advisory.
Feel free to compare the ranking of various universities at Kenznow University Ranking. You may share your queries with Kenznow or email us at [email protected]