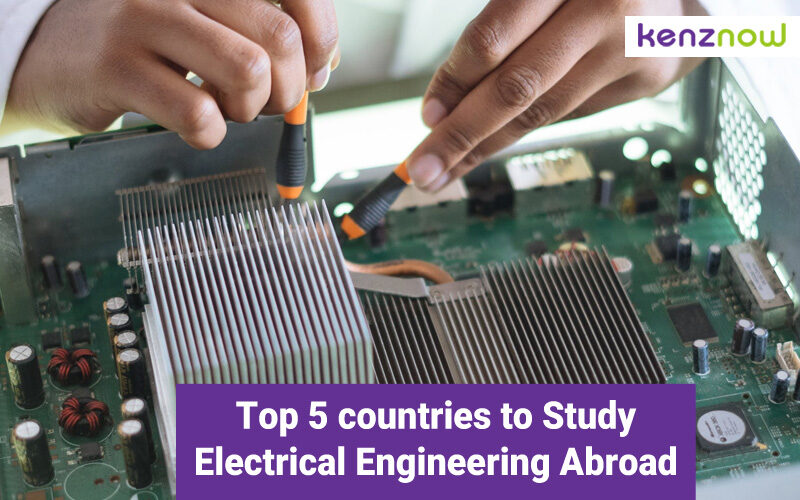 Top 5 Countries to study Electrical Engineering Abroad
Kenznow Research has come up with a detailed study on the best Universities in top countries to study Electrical engineering. Electrical engineering is the branch of study which involves the working and understanding of electrical and electronic application. The advent of electrical engineering took place during the 19th century after the renowned scientist Faraday discovered the Law of induction, which brought a revolution in Electrical engineering by introducing new concepts of current flow.
This field of study mainly focuses on
Electricity Generation
Electricity transmission
Distribution of electricity
As we are getting more and more dependent on technology for our daily lives, there is an ever-increasing demand for electrical engineers which is due to new job roles that are emerging in this field ranging from Energy Systems, to power engineering & even video image and speech processing.
Typically having a degree in electrical engineering can land you jobs with a decent starting salary. There are many reputed universities which offer some of the best degrees and post graduate courses related to this field, At kenznow we have shortlisted the universities from top 5 best countries to study electrical engineering.

You can now opt for short term courses on Trending courses and receive a certificate from well-established universities abroad. This is completely Online, Get your course on Kenznow Institute.
United States of America
To earn your degree or certificate in electrical engineering the U.S is one of the best countries to get your specialization from as the universities which offer the courses are well recognized and have a universal reputation across the globe.
Germany
Germany being the number 1 hub for engineering hosts some of the best universities on the continent, coupled with excellent faculty to give you the best education on the globe, following are the top universities
United Kingdom
United Kingdom is home to universities which are over 5 centauries old, they offer the best in class education where the university and the culture of its cities in which the universities are located are seamlessly integrated within each other. Below are few of the oldest and best universities to study in the U.K
Australia
The top engineering colleges in Australia rank amongst the top Engineering colleges in the world, therefore it becomes more imperative to choose the right college for the right stream. Electrical engineering in Australia is a highly sought out job, not merely by the domestic students but also by international students, following are the list to the top universities which offers the best courses for electrical engineering.
China
China is an ancient, mysterious and beautiful land which appeals and inspires international visitors, Students across Asia and the west come to study abroad in Chia because of its affordable degrees with state of the art engineering schools offering English-Taught Bachelor's and Master's degree, the below shortlisted are few of the best universities to study electrical engineering.
If you are planning to complete your nursing degree, Check out our best countries to study nursing abroad
Explore your study abroad career options by logging on to Kenznow Bridge and get access to unbiased study abroad advisory. Feel free to compare the ranking of various universities at Kenznow University Ranking. You may share your queries with Kenznow or email us at [email protected]